For news and information regarding programs and services affected by Coronavirus, click here.
ROSA SAKALARIOS, PHR, SHRM-CP
Vice President, Human Resources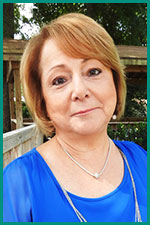 Rosa is a native of Pensacola and has been with Council on Aging of West Florida since 1984. Prior to her promotion as vice president of human resources, she worked in the agency's adult day care and community services programs and also held the title of executive assistant.
Rosa has earned two professional designations as a Professional in Human Resources (PHR) in 1997 and Society for Human Resource Management Certified Professional (SHRM-CP) in 2015. She is a member of both the national and local Society for Human Resource Management and has served on the local board of directors. Rosa is a three-time loaned executive for United Way of Escambia County.
Council on Aging of West Florida is compliant with the Better Business Bureau's Wise Giving Alliance Standards for Charity Accountability. Learn more at www.bbb.org.