For news and information regarding programs and services affected by Coronavirus, click here.
SUZANNE JACKSON, MSW
Social Services Director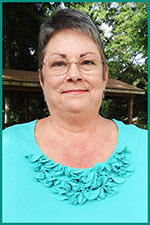 Suzanne has served as Council on Aging of West Florida's social services director since October 2014. Her previous roles with Council on Aging have included intern, case manager, home care director and social services director for a total of 12 ½ years with the agency. Suzanne has more than 30 years' experience serving the elderly including social work case manager for Providence Hospital in Mobile, Ala., and care manager for American Eldercare.
Suzanne is a member of the Florida Association of Service Providers and Florida Council on Aging. She earned her bachelor's degree in social work from the University of West Florida, and a master's degree in social work from Florida State University.
Council on Aging of West Florida is compliant with the Better Business Bureau's Wise Giving Alliance Standards for Charity Accountability. Learn more at www.bbb.org.